Find a Roofing Contractor: 4 Tips to Help You Out
Author: Amy Freeman
November 4, 2019
The lifespan of a roof can range from a few years to well over a century depending on building materials, weather conditions and maintenance. If you own a home, you're eventually going to need to repair your roof or replace it entirely. Finding the right roofing contractor is the first step toward making sure your project goes as smoothly as possible.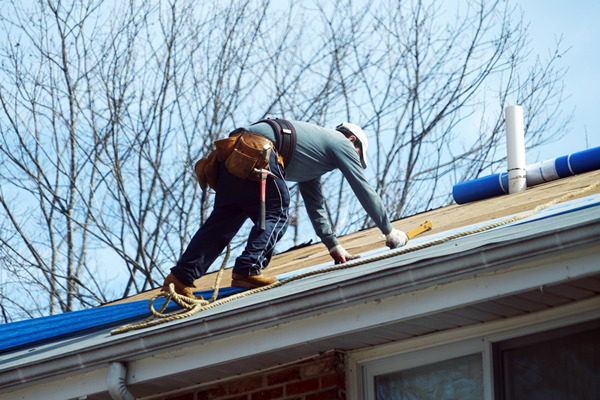 However, you don't necessarily want to hire the first nail-gun-slinger you come across. Follow these key tips to find a roofing contractor who will do the best possible job with the least amount of drama.
Ask for Recommendations
Finding a good contractor can feel like looking for a loose screw at the bottom of a packed toolbox. Homeowners who have already done the hard work of sifting through reviews and searching for a roofer are often happy to recommend a familiar one. Ask friends, neighbors and family members who live in your area if they can nominate someone who does good work.
Once you've gotten some recommendations from people you know, read those contractors' online reviews on sites such as Home Advisor. You can also visit the Better Business Bureau to see if are any complaints or concerns about their business.
Check Out Licenses
Dig deeper into your list of potential contractors to make sure each one has the necessary credentials and puts safety first. Since rules vary by region, research the requirements in your state and confirm a potential contractor has the appropriate licenses.
You should also make sure each roofing contractor you're considering is insured. Ask to see copies of insurance certifications for both liability and worker's compensation. Call the insurance companies to confirm that the policies are still valid and that the coverage matches what the contractor is advertising.
Pay Attention to Pricing
You're likely to get a wide range of quotes from roofing contractors. If one quote is considerably lower than the rest, it can be a red flag. Find out what you are getting for that price and what you might be missing if you work with the lowest bidder. They may take longer to finish a job, skimp on materials or underpay their crew.
Ask for a detailed, written proposal from each company when you request a quote. Getting everything in writing will help you compare and contrast contractors' estimates and choose the one with the best value.
Ask About Materials
What's your roof made of? The answer can have a big impact on your home's appearance and resale value.
Asphalt shingles tend to be budget-friendly, last a long time and are one of the most popular picks, but they aren't your only option. Slate roofing looks elegant, though it may have a higher price tag and typically needs more structure and support. Synthetic slate balances the look of slate with the lower price tag and lighter weight of asphalt. Other possible roofing materials include metal, wood shingles and ceramic tiles.
A knowledgeable contractor will discuss materials and help you choose the right shingles or tiles for your home. If you already know what type of roof you want, confirm that the contractor has worked with that material in the past.
Finally, find a roofing contractor who will be upfront and responsive to your questions. Even if a roofer comes highly recommended, has all the credentials and fits your budget, good communication is crucial for your project to go as planned. Since most homeowners only replace a roof every 10 years or so, and most roofs cost well above $10,000, it's worth the extra work.
Good roofers are out there. With a little effort and some online detective work, you can find the perfect professional for your home project.