Increase your in-home close ratio with Homeowner Financing from Beacon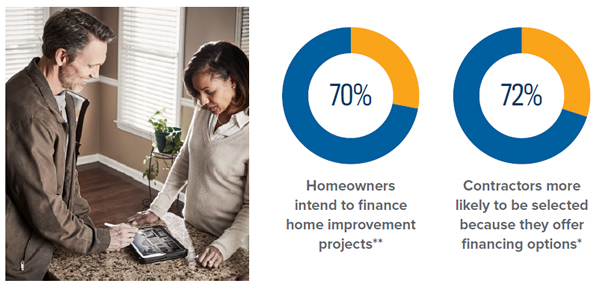 Beacon is proud to provide homeowner financing services that allow professional contractors to offer flexible, robust solutions for their customers. Work with Beacon's financing partners at Service Finance to provide industry-leading financing for their next project through our:
Easier closings with expanded financing offerings
Progressive payment programs that aid with cash flow.
50 financial products designed to meet a range of needs.
Paperless processing for more efficient approvals.
A mobile app for credit decisions within seconds.
Why Beacon's Homeowner Financing?
Using Beacon's homeowner financing, you can assist your customers in financing long-term projects without facing any unexpected fees or rates. Beacon's homeowner financing offers:
NO hidden Credit Card Terminal Fees.
NO hidden ACH Fees.
NO Activation Fees.
NO Sales Slips.
NO Consumer Completion Certifications.
Exclusive to Beacon Homeowner Financing
An attractive option to the homeowner, giving them the time they need to recover
NO payments and NO interest for first 6 months
Loan rolls right into 120-month low payment, reduced interest loan
$132 minimum payment (based on $10,000 job)
Simple interest rate 9.99% APR
No prepayment penalty.
To close more jobs using Beacon's homeowner financing, reach out to your Dealer Concierge (877-661-6790) or visit the Service Finance Company Website.