Roofing Industry Trends
Author: Barbara Horwitz-Bennett | November 4, 2019
For flat, low-slope roofs, tried-and-true PVC is a high quality, durable way to protect a variety of commercial buildings, from condominiums to retail to restaurants.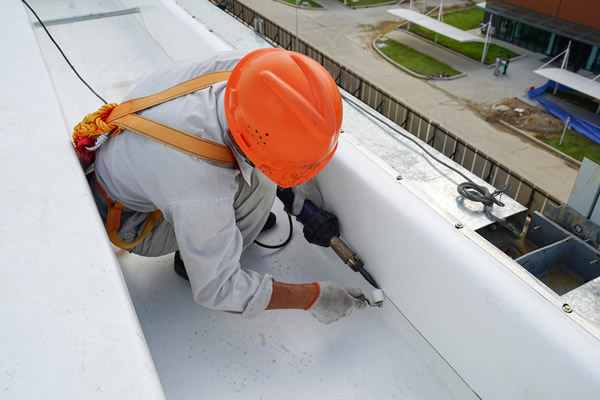 What is PVC roofing? Made from polyvinyl chloride (or in layman's terms, plastic), PVC is a great single-ply roofing solution. It's made from a lower percentage of oil and petroleum than thermoplastic polyolefin (TPO) or ethylene propylene diene terpolymer (EPDM). As a cool roof membrane, it carries both Energy Star and Cool Roof ratings.
What Is PVC Roofing?
PVC is surprisingly strong. The Remodel Gurus lists the breaking strength of roofs made from this material as at least 350 pounds per square inch — far above the minimum breaking strength required by the American Society of Testing and Materials (ASTM), which is 200 pounds per square inch.
Because PVC is so strong and stable, it can be installed by heat welding the seams, as opposed to other membranes that require adhesive or utilize a taped seam. This installation method allows a PVC roof to expand and contract with a building. PVC can also be sealed with solvent welding and attached to metal flashing and other components with adhesives.
This robust material also offers protection against chemicals, water leaks, UV rays and fire. Thanks to its cool reflective properties, PVC is resistant to damage and discoloration from the sun's radiation.
How PVC Stacks up Against TPO and EPDM
Although PVC has a stronger track record in the roofing market than TPO, manufacturers and products can vary in quality. For this reason, it's important to work with a reputable supplier.
TPO membrane is a less expensive option than PVC, and is also an Energy Star certified cool roof. Because TPO is more flexible, it's highly resistant to tears, punctures and impact damage, and accommodates building movement and settling without compromising performance.
Meanwhile, EPDM offers one of the cheapest membrane options low-slope installations. Another advantage EPDM has over its competitors is that it comes in sheets of up to 50 feet wide, making installation faster and less labor-intensive.
According to Roofing Calculator, PVC is easier to repair than other membranes since it can be easily re-welded in sections. A PVC roof can also last up to 30 years. Despite the high up-front cost, PVC's longevity makes it a better investment for some roofing projects. While a properly seamed and installed EPDM roof can withstand rain, snow, UV rays, abrasions, ozone and temperature fluctuations, the seams are not as sturdy as PVC and the membrane can start to shrink and pull apart with the buildup of heat.
Ultimately, PVC, TPO and EPDM all offer their own benefits. Contractors should consider the factors driving a project and a client's needs — budget, climate or longevity — to determine whether PVC or another roofing membrane is best.