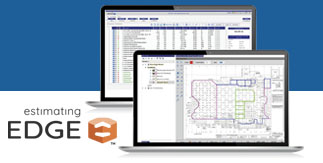 Beacon has partnered with Estimating Edge to help our customers Build More. A well-known, trusted provider for cost estimating and takeoff software, the partnership includes a seamless integration between The EDGE™ Estimator and Beacon PRO+.
SPEED, DEPTH, AND ACCURACY.
Designed by top-tier programmers, the architecture is built around object-oriented programming. This allows The EDGE to be reliable, predictable and gives a blueprint for solving problems, which provides consistency. Benefits included with using The EDGE software include:
Consistency
Accuracy
Auto Calculations
Smart Alerts
The EDGE Estimator is a commercial estimating software that provides an end-to-end automated solution for both takeoff and estimating, so it functions more smoothly than other market solutions. It updates material and labor costs immediately, while also checking for costly errors, allowing contractors to bid with confidence.
The EDGE comes preloaded with many manufacturer databases and templates, and data such as labor rates, account codes and profit can be customized, making it the preferred choice for professional estimators.
Over 70% of the "Top 100" Commercial Roofing companies rely on The EDGE.
Already have an Estimating Edge account? Contact support@estimatingedge.com and they can help you link up the Beacon button in The EDGE.